Art's Automotive can satisfy all of your tire and alignment needs.  We've been selling tires for 20 years now, but surprisingly, many of customers still have no idea we stock tires. Sometimes our customers call to ask us for a recommendation for a good tire shop in Berkeley, to which we respond…. US!
The fact that even folks who like us and come in regularly don't know we're a full service tire shop must mean we're pretty bad at marketing. So, in an effort to rectify that, here's a little information about what we offer.
What kind of tires?
We offer new tires, primarily Yokohama. We are an authorized Yokohama dealer and we try to stock all of the sizes common to the cars we repair.
Learn more about Yokohama, their warranty, and the company at their website.
The Arts Automotive Guide to Buying New Tires
This article covers some of the information you'll need to make an intelligent choice when buying tires. The amount of information can be overwhelming. In this article we attempt to explain all of the considerations in plain English to make your decision a little easier.
For most cars we repair, we recommend the Yokohama Avid Ascend LX. It's a reasonably priced tire, lasts a long time, is quiet, handles well in the wet at dry. Many of us run this brand and model on our own cars. However, our recommendation may change in the future because tires are like shoes; once you find a model you like, they discontinue it and you have to start for the perfect fit again.
---
GREAT MOUNTING EQUIPMENT FOR SCRATCH-LESS INSTALLATION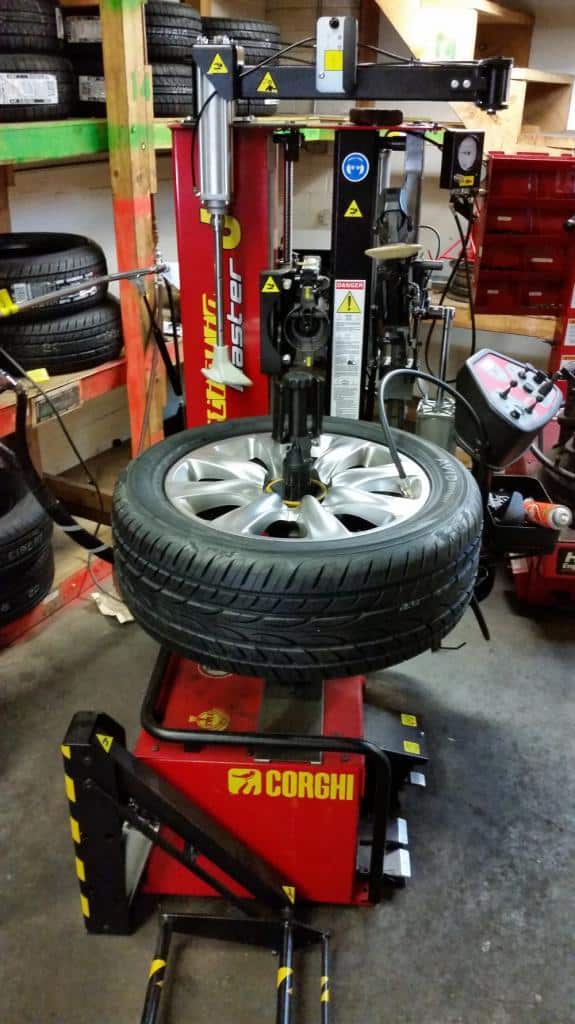 Back in the "good ol days" all the Japanese cars we repaired had 13″ tires with a generous sidewall which were easy to remove and install. These days some of the cars we repair come stock with 20″ rims and 35 series tires. They are far from easy to remove and install using a traditional tire machine. Rather than risk damaging tires or rims with a lever style machine, we looked to the Italians, who know a thing or two about low profile tires. We now own a Corghi Master-J lever-less tire machine that can handle handle the tires on a Bugatti, and can certainly safely install tires on the "grocery getters" we repair here.
---
PRECISION BALANCING AND BEYOND
Our road force machine, the Hunter Engineering GSP9700, will test for lateral and radial run out. Most tire shops don't have a RFV balancer. We use it to diagnose pull caused by stiff spots in the tire's sidewall and vibration caused by "out-of-round". Using this machine, we can also place wheels so the forces they generate cancel each other out. Finally, we can also match the stiff spot of the tire to the low spot of the rim to achieve the lowest possible road force variation, just like the manufacturer did before the car was shipped off to the dealership. If you're interested, you can read one of our more detailed articles on the subject here.
---
TOP QUALITY ALIGNMENT EQUIPMENT
We also have the best alignment equipment on the market. The Hunter Engineering "HawkEye" system uses cameras, targets with reflective triangles. They use trigonometry to quickly and precisely gauge the position of each wheel. With this machine, we can check basic alignment angles like caster, camber, and toe. What really cool though is that we can also check ride height, setback, toe out on turns, and make a bunch of more advanced measurements. Most tire shops will have and alignment rack, but not necessarily like this one.
---
TPMS DIAGNOSIS AND REPAIR
Art's Automotive provides complete TPMS diagnosis and repair. Most tire shops can replace TPMS sensors and register them to work with your vehicle. Of course, we can do this too. But here's what makes us different — we have a factory scanner for every make we work on. Our capabilities go far beyond just replacing sensors. We can fix your TPMS system no matter what's wrong with it. If your TPMS light is flashing, we can find out why, even if it's not a sensor. However, we don't need to pull out the big guns for every problem. We also have aftermarket TPMS tools for cloning and programming TPMS sensors for less cost.