2020 Preface
This is an article about our parts department redesign in 2004. Boy have things changed in the last 16 years! Once upon a time cars required far more predictable and repetitive maintenance and we prided ourselves in having the needed parts on-hand. Our customers could get their cars back on the same day because we had the inventory here and ready to install. Other shops would need up to three days to special order the parts, even for common maintenance like timing belts, valve adjustments, and brake pads. There was no financial upside to stocking as many parts as we did. We did it to provide our customers with faster turnaround and our hope was that we'd earn long time customers by providing a better option for repairs and maintenance, and we think it worked! 2020 will be our 40th year in business.
We still have some fast-moving parts on hand, and we also have the same philosophy when it comes to parts: quality and value, in that order. What's different is that 3-day waits are a thing of the past. Fast moving parts are available every few hours and slower moving parts are available next day. There's no need to have a huge inventory these days. Our years of having a real parts department allowed us to learn a lot about what works and what doesn't. We don't just click a button on whatever part is cheapest, or has a nice picture, or has a name that sounds like it would be good quality. We've had years of experience. We know the players and have a pretty good idea who makes parts for who, and which manufacturer's part will work best for a particular application. Anyway, back to 2004….
---
Parts Room Redesign
This is our recently redesigned parts room. I wish I had taken a "before" picture for contrast. It's hard to describe how messy it was becoming without pictures, but let's just say we were beginning to suffer an unacceptable level of inventory loss due to trampling damage.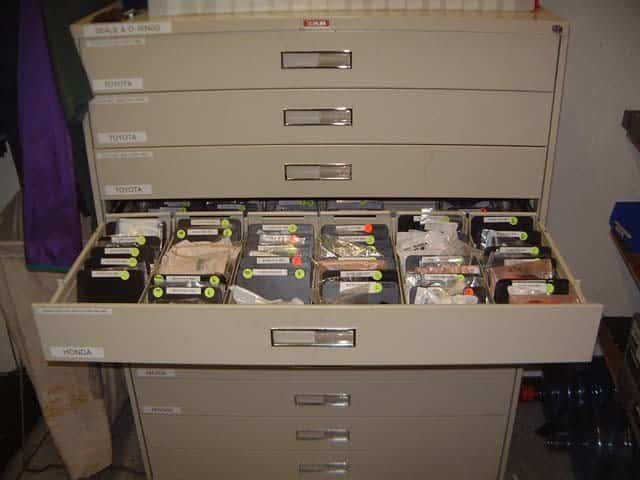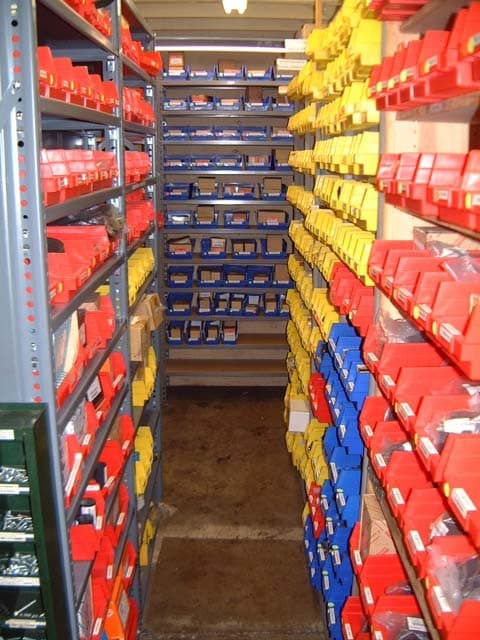 ---
GENUINE, OE, AND OEM
This is the first aisle. You may notice that most of the parts we stock are either Genuine, OE, or OEM.
Genuine Parts
Genuine means if the part is for a Toyota, it comes in a Toyota box.
Original Equipment Parts
Original Equipment, means the part was manufactured by the same company that originally made the part for your car. OE parts come in boxes with the name of the part manufacturer, not the name of the car company.
Original Equipment Manufacturer
Original Equipment Manufacturer, means the manufacturer of the part provides parts for use in new cars. They may even have provided parts for use in your new car. However, they did not provide this specific part for your car.
Here's an example, let's say you have a Honda Civic. The parts manufacturer NGK made the spark plugs for your car, but not the spark plug wires. If you bought a spark plug for your Honda at the dealer, it would come in a Honda box with an NGK spark plug inside. That would be a Genuine part. If you bought NGK spark plug from a parts store, it would come in an NGK box with the exact same NGK spark plug inside. That would be an OE part. If you bought a set of NGK wires from a parts store, that would be an OEM part. However, if you had a Mazda Protege, NGK wires could be Genuine or OE.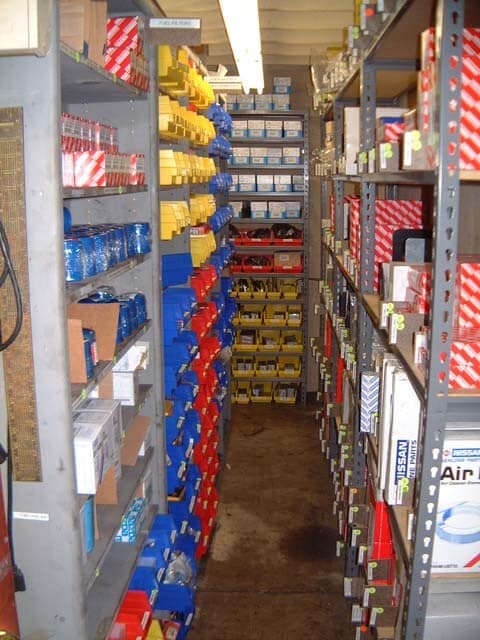 Not everyone agrees on these definitions. Many mechanics will say that OE is synonymous with Genuine. Or OE and OEM mean the same thing. These are our definitions, based on definitions that our major suppliers use, put forth in an effort to explain where the parts we use in your car come from.
---
Spark Plugs
We use Denso spark plugs. Denso is OE for Toyota and an option for Honda. The other OE plug for Japanese cars is NGK. Both are excellent. We can't afford to stock both, so we flipped a coin and went with Denso. We also stock some fuel injection components such as O2 sensors, mainly Denso and NTK (NTK is part of the NGK company).
---
Genuine timing belts and water pumps
All of our timing belts are Genuine. All of the water pumps are Genuine, except for Mazda, which sells water pump that have been re-manufactured by a Ford partner. They're junk, so we buy new Japanese parts. Also, some Honda water pumps made by Adler we buy in Adler brand. Same part as OE, but different box.
Tensioners and idlers are either Genuine, NSK, or Koyo. NSK and Koyo are OE or OEM for most of the cars we work on.
Any seal we touch is replaced with OEM or genuine new seals.
Timing Belt Components
On the left side of the aisle are timing belt parts for Toyota and Nissan. We always use Genuine timing belts. For water pumps we use Genuine or OE, never OEM. For tensioners and idlers we use Genuine, NSK, and Koyo. NSK and Koyo are OE or OEM for most of the cars we work on.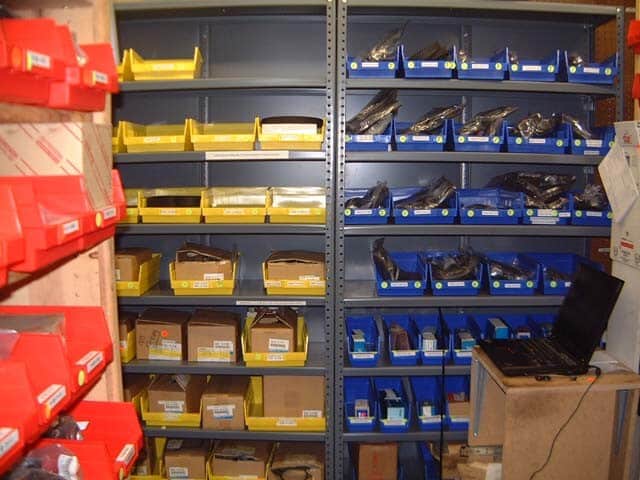 ---
Buy Brake Pads From a Dealership!
We keep Genuine Honda front brake pad kits on the back wall. Honda brake pads come with new anti-squeal shims, which is a nice bonus. I wish all manufacturers did this. In the 1980s and early 90s, Toyota sold pad kits with new shims as well as new hardware, but I guess consumers voted, and this option isn't available anymore.
Subaru sells all pads with shims and hardware, which makes a brake job with Subaru pads a little expensive, but it also means Subaru brake jobs always work out well. No squeals, no rattles, no knocks. All the wearing parts are replaced all the time, whether they're needed or not.
Toyota brake Pads
We only use Toyota brake pads for Toyota cars because they are the least likely to cause poor performance or squeaking. There are two types of Toyota brake pads: Standard and Warranty.
This confused us when we first saw it in the Toyota Fast Moving Parts Guide. Initially we figured the warranty pads must be sub par, for use in warranty repairs. Turned out it was the other way around; the warranty pads are more expensive and help to reduce squeaking.
We carry the warranty pads whenever they are available, but, unfortunately, they are only available on very popular or newer applications. As your car gets to be older, you may just have to learn to live with the squeaking. Of course, there are many other factors that affect brake squeak, but a detailed explanation will have to wait until I get around to writing a brake information page.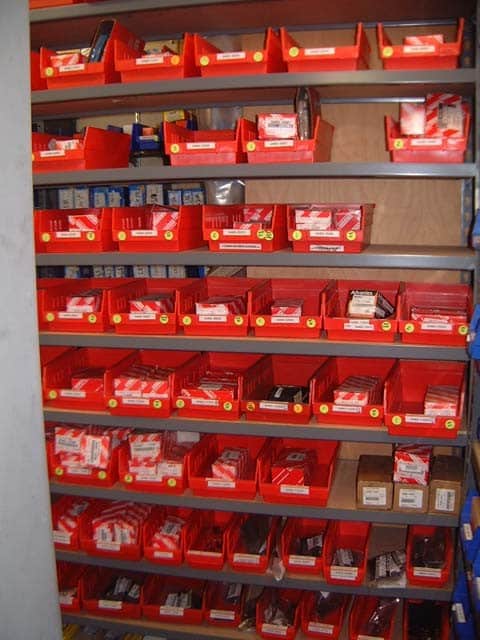 Honda, Subaru, Mazda brake pads
We also use Honda pads for Honda cars, Subaru pads for Subaru cars, Mazda pads for Mazda cars, and Nissan pads for Nissan cars.
Honda, Subaru, and Mazda pads always like the original or improved from the original. You need to be careful with Nissan though because they have a "value line" which isn't a good value; they're just cheap pads in a Nissan box. Most of the time you'd be better off buying an aftermarket OEM set of Hitachi or Akebono brake pads and skipping the Nissan box. Our local dealers don't stock anything but the value line, so we special order and stock the good pads so we'll have them when we need them.
You may have noticed all of the bins are color coded. Granger only sells 3 colors of bins, so Honda and Acura are blue, Toyota and Lexus are red, and Nissan and Mazda are yellow (not that Nissan and Mazda are in any way related, we just have far more Honda and Toyota parts, so it made sense to give them each their own color.
There isn't a lot of space in our parts area, so we wedge parts in where we can, including the stairs. When walking through the aisles I turn my body a bit so I don't knock bins off the shelves with my shoulders.
Here you can see some Tokico, Aisin, and Adler wheel cylinders. Tokico is OE for Mazda and some Nissan models. Aisin is OE for Toyota. Adler is OE for Honda. By forgoing the branded box, we save our customers money without losing any profit.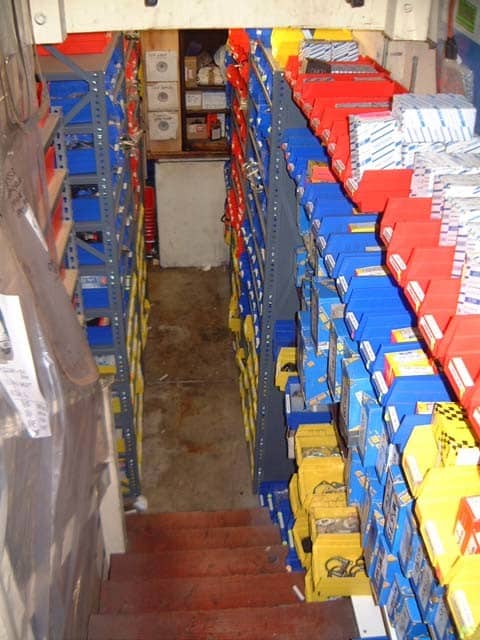 ---
Wiper Blades
We also keep Genuine wiper inserts and whole blades. We stocked Bosch whole blades, for a while, but got too many complaints about chattering and longevity. Now we stock NWB (Nippon Wiper Blade), a major supplier of wiper blades for Japanese car manufacturers. It's a very high-quality blade, and we've had no complaints at all, other than the price.
We considered stocking both the NWB blades and a cheaper brand for folks who complain about the price but decided that we'd never be able to complete with the big box stores. Costco and Walmart will always be able to sell a cheap blade cheaper than us and installing a wiper blade isn't exactly rocket surgery. Better to let customers who want cheap blade buy and install them themselves so we don't have to deal with the warranty issues.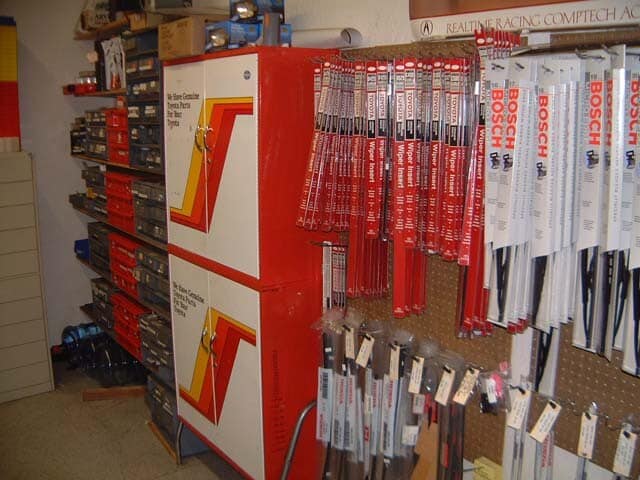 Art's Automotive has been in business for 25 years now, and computerized inventory systems have slowly grown to be commonplace in almost every industry around us, as we continued to do things as we always had. But the larger the business grew, the larger inefficiencies of using a manual system grew. A large part of the parts room redesign was the integration of a computerized inventory control system.
InVENTORY MANAGEMENT
This is a picture of a parts record. All parts have a record. It's like a folder in a file cabinet. Written on the folder are all of the part numbers associated with the part (so when a part number is superseded you don't lose use of old inventory), a part description (for the invoice), the default supplier of the part (so you, and the computer, know where to reorder the part), the default bin location (so you know where to find the part, the preferred manufacturer (so you know what brand you like to order), the part's cost and list prices, and the minimum quantity and the restock quantity (once the stock level drops below the minimum, the restock quantity is automatically added to a purchase order. The image below is a screen cap from the shop management system we're using In-GeniusShop Tools .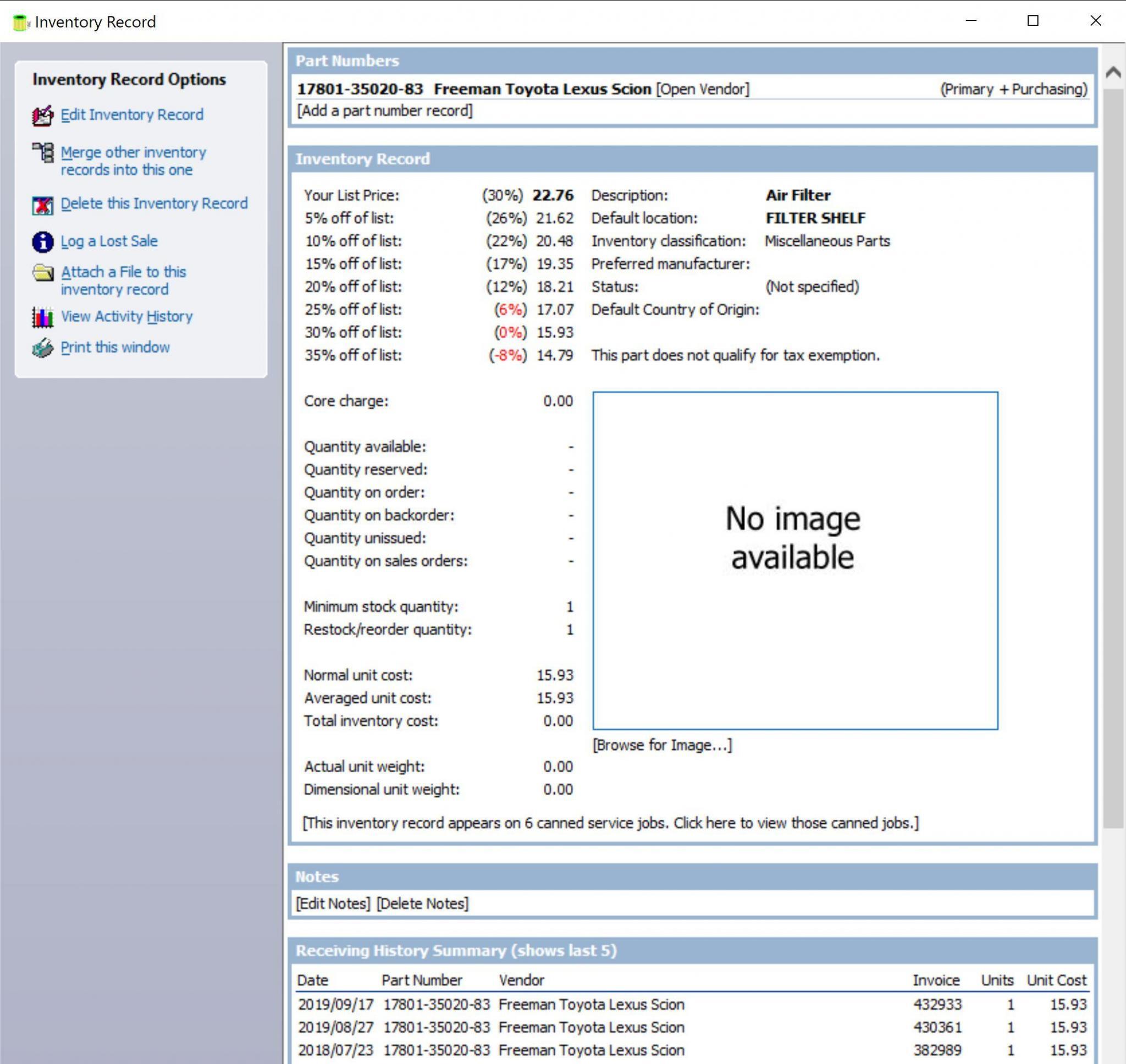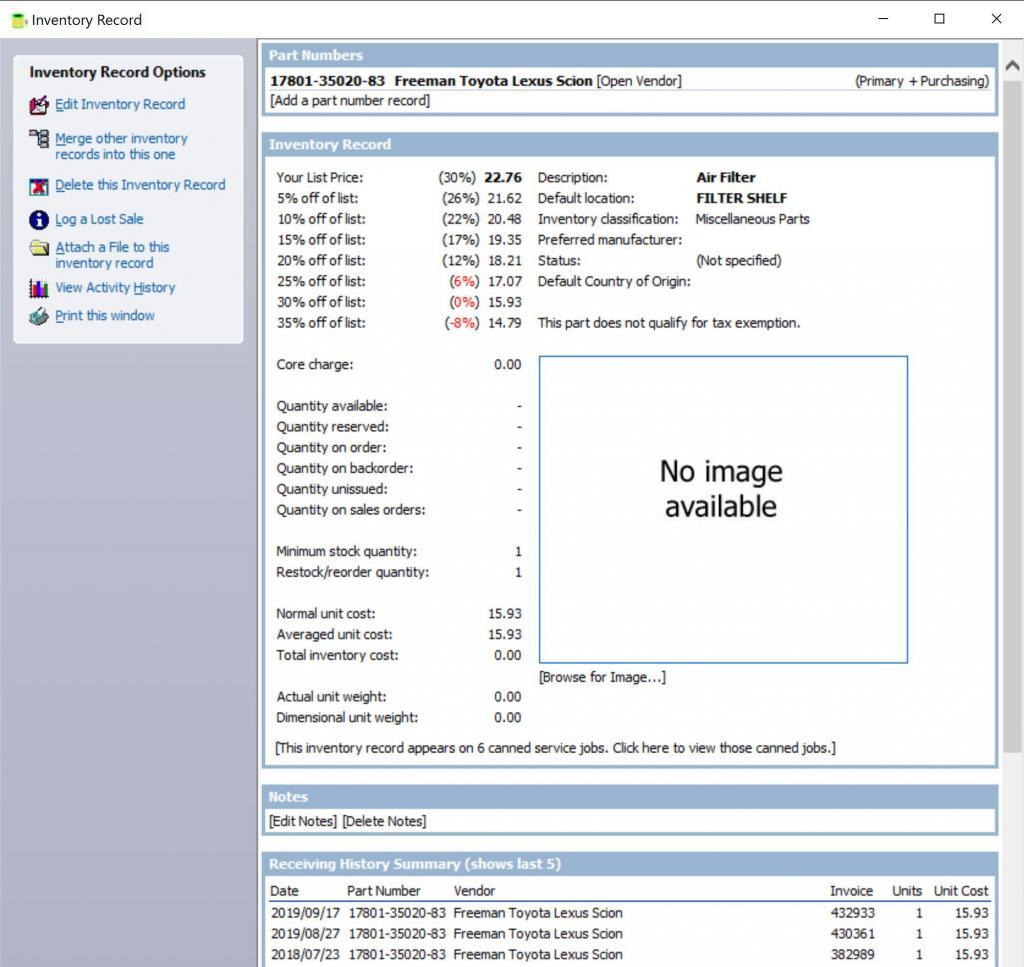 Using history reports we're able to see how often a part is sold, which types of cars it has been installed on, every customer who has purchased this part from us, every time we've lost a sale or been inconvenienced because the part wasn't in stock, and even where every individual part was purchased from. This data helps us know what parts we should stock and how many we should have on hand. It could also help with warranty or recall issues, but that hasn't been needed to date.