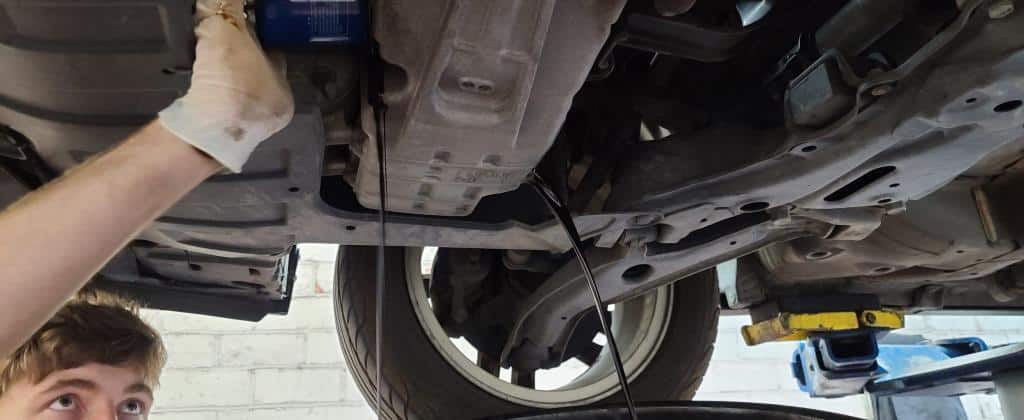 ]We only schedule a limited number of oil changes per day, so they fill up really quickly. We feel bad that we can't accommodate folks when they call in at the last minute, but if we did, we wouldn't make a profit.
If we filled our schedule with oil changes, it wouldn't be sustainable. So we limit oil changes and 5K services to about 20% of our schedule. For us, oil changes are break-even at best. We're trying to match prices with quick lube shops that pay their "techs" minimum wage and buy the cheapest parts available. High quality motor oil is very low margin, and we bill 15 minutes for a job that takes us 30 minutes to complete. Since oil changes occur at a 2:1 ratio to other types of preventative maintenance, the oil change slots fill up fast.
Intermediate and major service appointments don't fill up as quickly
Maintenance services 15K and larger aren't capped. You will be able to schedule an intermediate or major service appointment sooner. It makes sense to be sure an oil change is all you need, both for scheduling convenience as well as the car's health. The "maint req" light comes on when it's time to replace the oil and filter. However, that's not necessarily all that's due when the light comes on. It's very important to check your records against the maintenance guide in your owner's manual.
Honda has a maintenance minder system that will alert the driver when the oil change is due. What makes it different is that it will also call out any other service that's due. It sets codes like B14 or A12 that include an oil change, but also other service work. The maintenance reminder system isn't foolproof though (a subject for another page). Ask us to check your file to make sure no maintenance work has been skipped. It can make a huge difference in the longevity of the car.
Call for an appointment early
Call us a couple weeks before you need an oil change, you'll get the day you want. If you have a consistent commute and mileage accumulates in a predictable pattern, we can set up your next appointment while you're here for service – just like your dentist.
If you forget to schedule in time, don't worry. It's unlikely that the miles you drive in a couple weeks will make much of a difference. However, be sure to check your oil level and top it off if needed! Oil level is more important than condition. No oil is always much worse than degraded oil. Checking and adjusting your oil level and tire pressure are the most important things you can do to maintain your car. Adding oil may prevent accelerated engine wear, or even catastrophic failure. Setting the tire pressure prevents premature tire wear and saves gas.