What To Do While Waiting For Your Car
Ideally you wouldn't wait around for your us to fix your car. It's much better to be at home, or at work, or spending the day with a friend, or anything other than spending the whole day sitting around wondering, "Is it done yet?". However, sometime this is just not possible, and you need to wait around for your car to be done. Here are some places to go to keep your mind off your car and how long it's taking to fix.
If you are looking for somewhere to sit and enjoy a cup of coffee while you are waiting for your car to be done, away from the hustle and bustle of our office, we recommend Uncommon Grounds on 7th street. It's a 5 block walk from Art's Automotive (see map below). They offer breakfast, lunch and, of course, coffee. However, this is not just a cafe, they actually roast their coffee on-site. This is the freshest coffee you can get. The beans come from the on-site roaster to the brew bar, where your cup of coffee is brewed when you order it . They also offer free wireless internet access, so if you bring your laptop with you can surf as you sip.
Check http://www.uncommongrounds.net for more information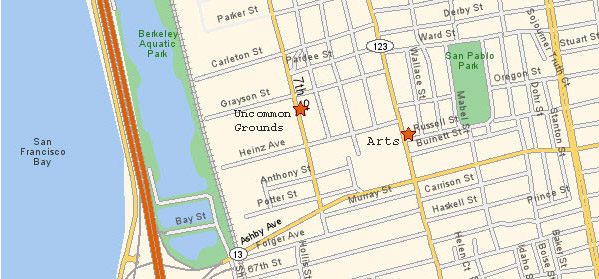 If you're looking for a bigger lunch selection, try Bacheeso's. There is a large buffet with lots of healthy choices, not necessarily low fat, but very high in all sorts of vegetables. They usually have roasted turkey, steak kabobs, and other meat dishes, but vegetarians will be able to find plenty to eat too. I've heard Bacheeso's referred to as Mediterranean or Middle Eastern, and they do have some dishes that match that description, but they also have dishes of many other styles. It's a hard restaurant to pigeonhole. Bacheeso's is on the corner of Dwight and San Pablo, about 8 blocks North of Art's.
The Vital Vittles bakery is a across the street and a block down. You'll see many of their products in health food isle at your local supermarket, but you can also buy their bread directly from them at the bakery, still warm from the oven.
Check http://www.vitalvittles.com for more information
If it's going to be a long while, you can take in a movie at the Emery Bay theater. This is a long walk, but if you have a long time to wait, why not. Walk South on San Pablo to 65th. Turn right. Walk down 65th to Christie. Turn left. Walk down Christie until you see the theater.