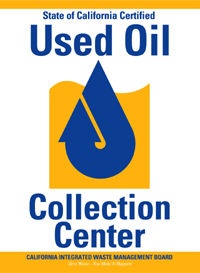 Art's Automotive is a registered California Used Oil Reception facility
As part of our effort to improve the environment and aid the community, we have registered with the state government to be listed as a facility capable of receiving used oil and lubricants for no consumer cost. The program is designed for community individuals, not businesses, and we will therefore limit the intake to 5 gallons of fluid per individual. We are not equipped to handle commercial waste recycling, and businesses should refer to the recycling program home page if they are interested. If you need to recycle oil, just enter the main office and announce so.
We are not responsible for oil container disposal, which is regulated separately, so plan on taking back whatever vessel you brought.
Click here for the program home page. Read the bullet points below for some more information about the program:
Major Program Goals
Provide the public with convenient collection locations for used oil.
Increase the demand for rerefined oil.
Develop methods to motivate the public to recycle their used oil.
Provide payments to local governments for development and maintenance of used oil and oil filter collection and recycling programs.
Provide grants to local governments, nonprofit organizations, and for research and demonstration projects.
You can read more about the efforts Art's Automotive is taking to improve our ecology in our Green Business certification page.