My Prius doesn't turn off when I press the power button
The 2004-2009 Prius has a common issue that can make it impossible to turn the car off in the normal way. Here's how you can turn your Prius off if this happens to you.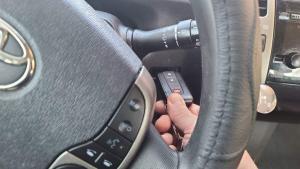 Insert the Smart key into the key slot in the dashboard. You'll find it to the right of the steering wheel, under the Power button.
Press and hold the power button.
Remove the key from the slot.
That should get the car to turn off.
Why won't the Prius shut off?
When your Prius won't shut off, the most common cause is the combination meter. The combination meter is the gauge with green LEDs behind the steering wheel. It has the speedometer, fuel gauge, and shift selector position as well as a few other things. When the combination meter fails, there are usually a few symptoms:
The speedometer is blank
The rear hatch may not open
The car won't turn off
How to repair the problem
The fix is to replace the combination meter. The combination meter stores the odometer data, so the current mileage must be programmed into the new unit. It also houses the inclination meter, which is necessary for an accurate fuel level calculation due to the Prius fuel tank bladder.
The repair process goes like this. First, we'll require a full deposit for the part before ordering. Once ordered, it's not returnable, since your mileage will be written to the part. Frequently the symptoms are intermittent and sometimes people change their mind when the car starts working again, and it's a lot of work for us to sell a combination meter with the wrong mileage. It takes about a week to get the part. Once the part arrives, we can set up an appointment and fix your Prius in a single day.
The dashboard must be removed and disassembled to replace the combination meter. The vent trim parts will sometimes break. Old plastic baked in the sun for at least 10 years is brittle. We're very good at pulling and prying in just the right places and with just the right force, but sometimes our best efforts aren't enough and a vent will break.
Once the new meter is installed, we'll calibrate the inclination sensor so your fuel gauge remains accurate, or as accurate as the Prius fuel gauge can be.
Questions? Price Quote? Appointment?
Parts prices and labor rates tend to increase with time. If you'd like a quote at current prices, have questions, or want to set up an appointment, you can call us, or use our contact page, or email us at everyone@artsautomotive.com.