The 2004-2009 Second Generation Prius uses a "Smart Key" that allows the owner to open and start their car without even removing the key from their pocket. Pretty neat. But what happens if you lose your smart key? Well, the replacement key costs about $224 (Price updated 04/2020. It may be different now), then it must be programmed to work with your car, and your car must be programmed to work with it. The photo log below outlines the process.
First things first, if you've already lost one key, we strongly recommend you register a replacement before you lose both. When you lose all keys, the procedure becomes more difficult and requires proof of ownership, additional fees, and additional labor. Most shops can manage adding a brand-new key, even if they aren't locksmiths
For this first method, you'll need one smart key that already works with the car and the replacement smart key. If you have lost *all* of the smart keys, a seed value must be obtained using TIS security professionals subscription (which requires a locksmith license), which means you'll have to tow the car to Art's Automotive, a Toyota dealership, or a licensed automotive locksmith. A smart key cannot be "paired" to a Prius without both the key and the car in the same location. The smart key has an emergency "standard key" insert that can be pulled from the smart key body in case the battery goes dead. The new smart key insert is blank, and needs to be cut to match the locks on the car either by VIN or by copying and existing key.
1. Replacement Key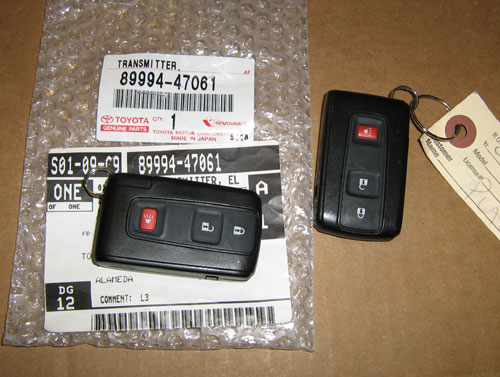 The next item you'll need is the Toyota Techstream (factory scanner) or a MasterTech scan tool. These are still fairly expensive, and make this project out of reach for all but the most hardcore do-it-yourselfers. The Toyota scan tool can be purchased from SPX/OTC though the Toyota technical website http://techinfo.toyota.com.
The MasterTech can be purchased from Vetronix, but is a bit slower and older. It does work on other makes, though: http://www.vetronix.com/
For this little demonstration, we will use the MasterTech scanner since it's quick enough. However, the tool is no longer officially supported, it's slower than the Techstream, and it's much harder to use for any procedures.
2. Scan Tool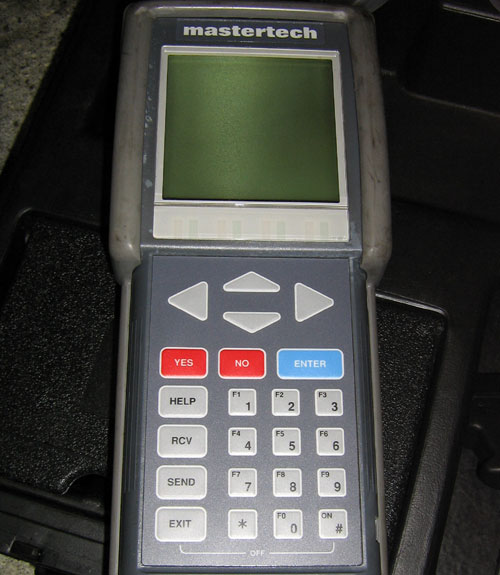 I don't know if the Vetronix Toyota card has Immobilizer function. We purchased our card directly from Toyota.
3. MasterTech plug in card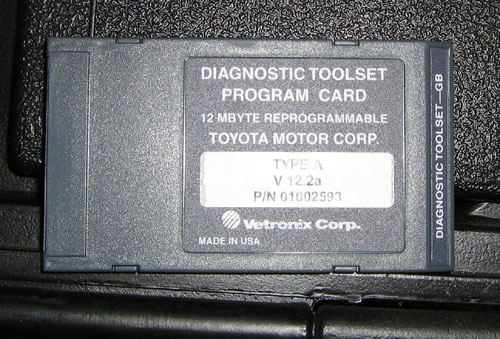 The 2004 Prius was the first Toyota to use CAN (Car Area Network) interface. The MasterTech scanner will not work with a CAN car without the CAN interface module. The CAN interface module can be left in place when using the scanner for earlier non-CAN Toyotas; however, it must be removed before using the scanner for generic OBDII or using the Honda card.
4. CAN interface module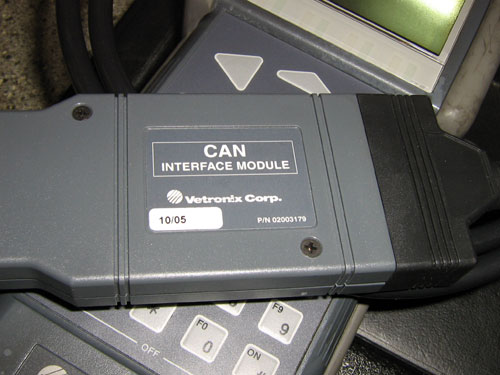 I learned a lesson during my nearly disastrous experience registering RFID keys on the first generation Prius:
** NEVER DO ANYTHING THAT REQUIRES KEY ON POWER WITHOUT A CHARGER HOOKED UP **
The 12 volt glass mat battery does not start the car, so there is no observable symptom when the battery goes bad. There are many Priuses driving around with bad 12 volt batteries, but unknown to the owners! We typically see the battery go bad between 3 and 5 years, most often around 4 years. The last thing you want to happen while writing to any ECU is the power to go out! Hook up a charger and you'll save yourself a lot of grief. The Prius requires a special charger to prevent damage to the battery. It can be purchased from Toyota and is not very expensive. I asked an Interstate battery rep if using the wrong type of charger would really cause damage. He said it likely would, because the plates in glass mat batteries tend to "swell" when charging, and charging at conventional battery charging voltages could cause the plates to touch and short out.
5. Official Trickle Charger from Toyota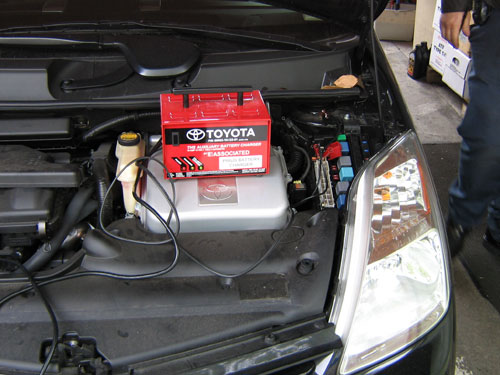 Tape the instructions where you can read them.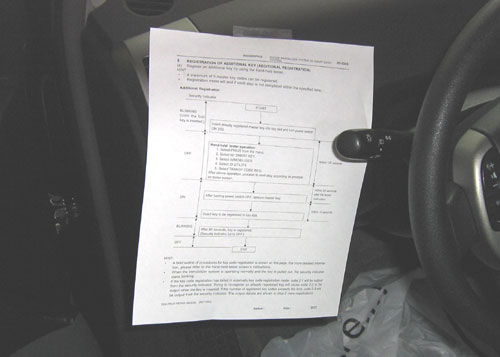 The scanner gets the registration process started, then we follow the flow chart. It's easier than tapping out a pattern with the door latch switch.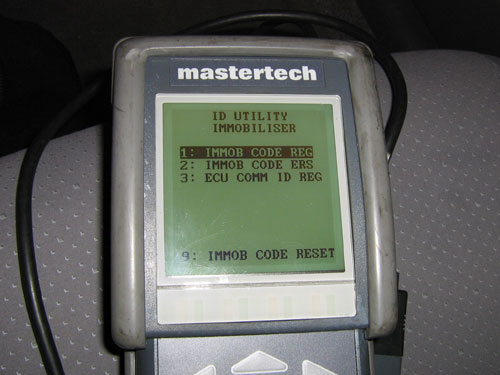 This is the switch to turn off the smart key function. When this switch is pressed, the unlock & lock buttons on the on the smart key must be pressed to unlock & lock the doors, and the smart key must be inserted into the smart key slot to start the car. Once the key is registered, we check to make sure the key registration worked by turning off the smart key function and starting the car with each of keys in the key slot.
It may also be a good idea to check the smart key function of each key by moving one smart key out of range at a time, since we had one customer complain that their new smart key worked only in non-smart key mode after we registered it. He never brought the car back for us to check, so we don't know what went wrong. We have not seen a similar case since.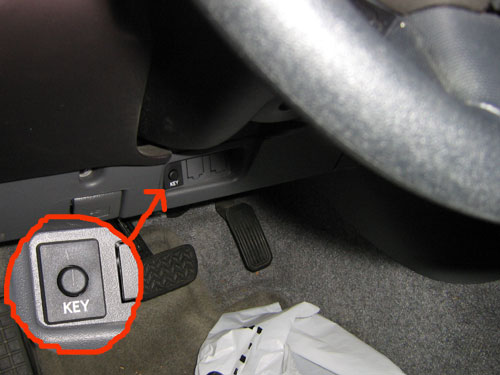 If you have lost all your available keys, you must perform a different but similar procedure. First, you will need to buy all new keys. The process can be done with one key, but why tempt fate? We recommend registering two new smart keys to give yourself a little buffer in case you lose another key! With two brand-new keys, the procedure is pretty straight forward, but requires the Security Professionals level of subscription to Toyota Information System, their factory online website. Once you're registered as a locksmith, you can purchase an upgraded level of access to TIS, with which you'll be able to program immobilizer and smart key ECUs.
With fresh keys and the Techstream, the registration process is pretty simple. Going through the steps outlined on the factory scanner, you will eventually purchase a random number Seed from TIS which is used in generating Vehicle Identification values (VIDs) that will be used to pair the Smart Key fobs and your Prius's smart key computer. This is a one-time fee of around $40. The new keys come without a VID associated with them. Therefore, during this process you will "burn" the VID into each fob, as though you were laser-cutting a physical piece of metal for a normal lock cylinder. Toyota does not allow you to delete a VID from a fob (like it's impossible to "un-cut" a metal key), therefore you CANNOT use this procedure to register used keys– eBay keys– with your Prius. If you try to pair a used key with your Prius, the VID from the eBay Prius key will be different than your Prius's and it will NOT WORK beyond the immobilizer function (plug into dash only).
Here's a recap:
IT IS EASIEST to add a new key if you lost one, but still have one
IT IS POSSIBLE to register 2 new keys if you lost both, and you buy new keys
IT IS NOT EASY to add a new key if you lost one, and want to program an eBay key to work with your car
IT IS NOT RECOMMENDED to purchase keys from eBay
if you want more information, check out our two additional articles:
The Basics of Adding and Removing smart keys
How much it costs to add eBay or new smart keys